"Quality is what's important."
Based in North Carolina, USA, Ace Bicultural Services offers quality English to Japanese translations for global clientele.
Ms. Junko Gilbert, CT

(順子ギルバート)
ATA certified translator
(English to Japanese)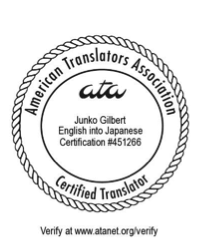 149 Whitehead Drive
Advance, North Carolina 27006
USA
email: Junko@acebicultural.com
**new phone number as of 9/15/2013: 336-794-6570 **
cell: 336-813-6042
Save time.

Save money.

Reduce the risk of an inaccurate or unnatural translation.

Have your Japanese to English translation needs served by a native Japanese speaker fluent in English.
Translation is much more than just looking up words in a dictionary and substituting the grammar of one language for another. It is a delicate process of interpreting the meaning in the original language and naturally conveying the same idea in the target language. This is an especially difficult task for translations between languages like Japanese and English that have significantly different rules of grammar and vocabularies.
It is generally considered that a translator should only translate into one's own native language to get a better quality and more accurate results. Yet it is just as good to have a well qualified translator translate a native language document into target language so long as the translation is improved by an editor or a proofreader. This is particularly true in a very difficult language like Japanese. It is hard for native American person to understand the meaning of Japanese. At Ace Bicultural Services, we understand these complexities and leverage our experience to produce translations that accurately capture the meaning of the original English and still flow naturally in the target Japanese.
We can also provide English translation that captures the meanings of the original Japanese document. You can use this English translation as it is for internal documents, or we could add extra service of native English speaker's editing/proofreading to polish up the English for external documents.
We have a strong background and experience in translating legal documents, including agreements, contracts, lawsuit-related documents such as complaints, summons, and judgments. Chief translator and the owner of Ace Bicultural Services, Ms. Junko Gilbert is currently studying business management and accounting for additional expertise.
Some of the benefits of using Ace Bicultural Services for English/Japanese translation are:
Reliable, quality translation with attention to details

Subject matter is well researched for better translation

Free update of document to incorporate client changes
(one time only)

Many years of translation experience (since 1983)